The Nuewa I9, dedicatedly designed for women and neonatal healthcare, providing an innovative experience from inside out. These innovations are developed based on in-depth insights into complex clinical scenarios, providing accurate and timely answers as well as outstanding efficiency and remarkable user experience.
Unlimited Scanning Flexibility Beyond Imagination
iConsole — Intelligent Control Panel
Intelligent and clinical exam-specific control panel layout with special E-ink keys
Breakthrough design with adaptive layout for different clinical scenarios
Full-space Floating Control Panel
Can be adjusted for better space utilization
Easily meet various scanning needs
Unrivaled Ease of Use
Easy to Use in Every Possible Clinical Scenario
3D/4D interaction becomes extremely intuitive and easy with reduced knob adjustments. Simply click and choose the effect you want for different application scenarios, such as Routine, iLive, Bone, Tissue, Follicle application scenario and so on. The preset imaging settings have been integrated in the system for optimal volume imaging effects.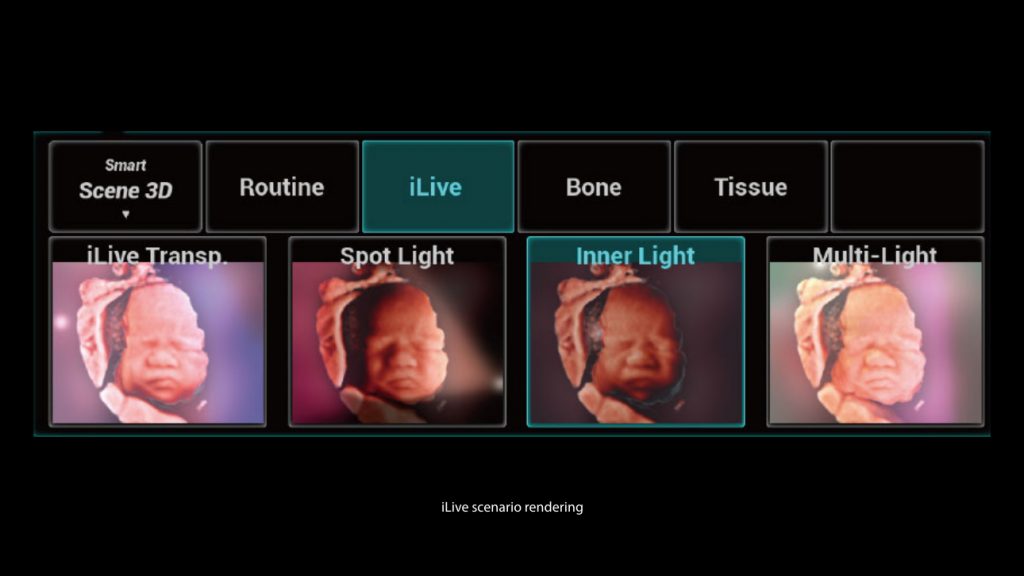 Immersive experience and intuitive interaction
23.8″ bezel-less full-screen with more information provided
15.6″ full-HD touch screen with powerful gesture operation
Simultaneous dual screen display for both doctors and moms
Well-thought-out Design for Ultimate Convenience
Just Fold Down and Go
Minimum 1 meter height
Easy transportation by MPV (Multi-Purpose Vehicle) for mobile service
Bedside Exams Without Power Cables
Up to 4 hours continuous scanning
Auto indication of residual power when you grasp the right handle
Super-silent Design
26dB super-silent design as quiet as a bedroom
Greater comfort without disturbance
Full-stack Solution Powered by ZST+
The ZST+ platform is an extraordinary innovation, representing an ultrasound evolution. Transforming ultrasound metrics from conventional beam-forming to channel data based processing. It overcomes the traditional trade-off limitation among spatial resolution, temporal resolution and tissue uniformity, delivering exceptional image quality for infinite imaging solutions with non-stop improvements.
Nuewa I9 provides full-stack smart solution for extraordinarily efficient women and neonatal care. It covers the continuum from pre-pregnancy, obstetrics to post-partum. The whole exam procedure becomes an automated workflow: it starts by identifying the automatic clinical application scenario, and uses automation at every exam point, such as imaging optimization, plane acquisition, and quantification.
Clinical Scenario-based Innovation with Smart Scene 3D
The innovative Smart Scene 3D is a smart scenario-oriented volume scan technique. By combining advanced algorithms with domain knowledge, it automatically enables the identification of tissue characteristics and provides an organ-specific diagnostic tool with smart features throughout the whole exam procedure from imaging optimization, plane acquisition, to quantification.
Smart Scene 3D can be widely used in women's healthcare during pre-pregnancy, obstetric and post-partum exams. As the technology becomes increasingly widely adopted, it will be continuously developed and enhanced in the future.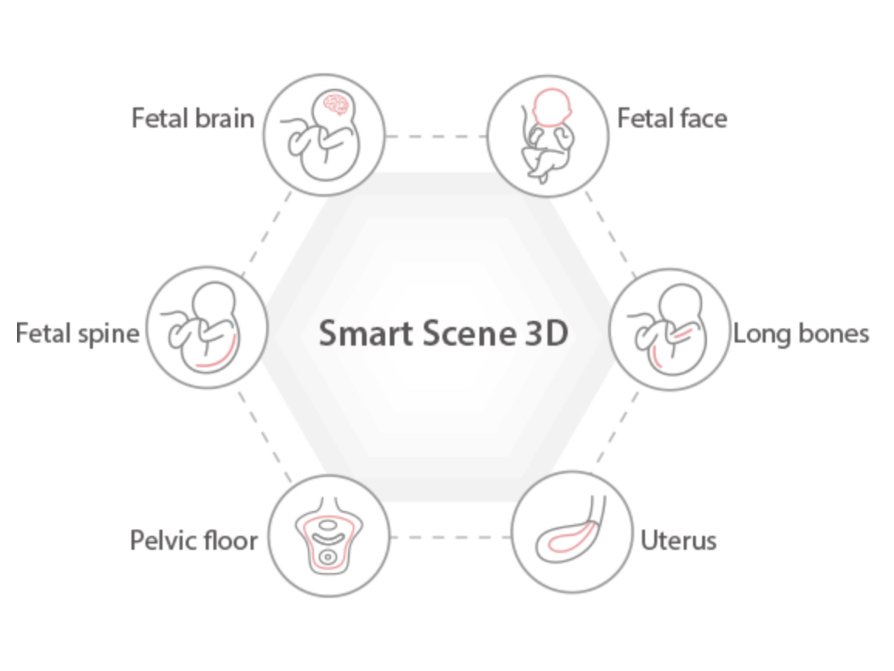 GYN/IVF Solution
Smart Endometrial Receptivity Analysis — Smart-V Trace
Smart-V Trace effectively detects anatomical structures with even weak boundaries, such as endometrium. In addition, it provides a comprehensive assessment of the vascular footprint and blood flow intensity in target area is provided to present more diagnostic information for endometrial receptivity and tumor blood flow distribution.
Obstetric Solution
Unprecedented Realism and Clarity — iLive with Hyaline
By mimicking multiple light sources of variable intensity, iLive helps to significantly improve the anatomical detailed resolution for both surface and internal structures through high-speed volume rendering.
Post-partum Solution
Easy Diagnosis of Pelvic Floor Disorders — Smart Pelvic
Smart Pelvic greatly simplifies operational procedures and minimizes the exam time for a standardized evaluation of the pelvic floor, whether for the anterior pelvic compartment or anal levator hiatus. With extremely simple user-interaction, it generates a standard coordinate system and fully automated measurements within a few seconds. It additionally offers auto acquisition of multiple parallel planes while symphysis pubis is "open, closing and closed".
Neonatal Solution
Reliable and Smart DDH Screening — Smart Hip
Smart Hip is a simple and efficient tool for accurate and reliable DDH (Developmental Dysplasia of the Hip) screening and diagnosis. It provides auto detection of hip structures and auto measurement of α and β for easy Graf classification. A quick exam only takes a single click, so is less dependent on the cooperation of the newborn.
Clinical Images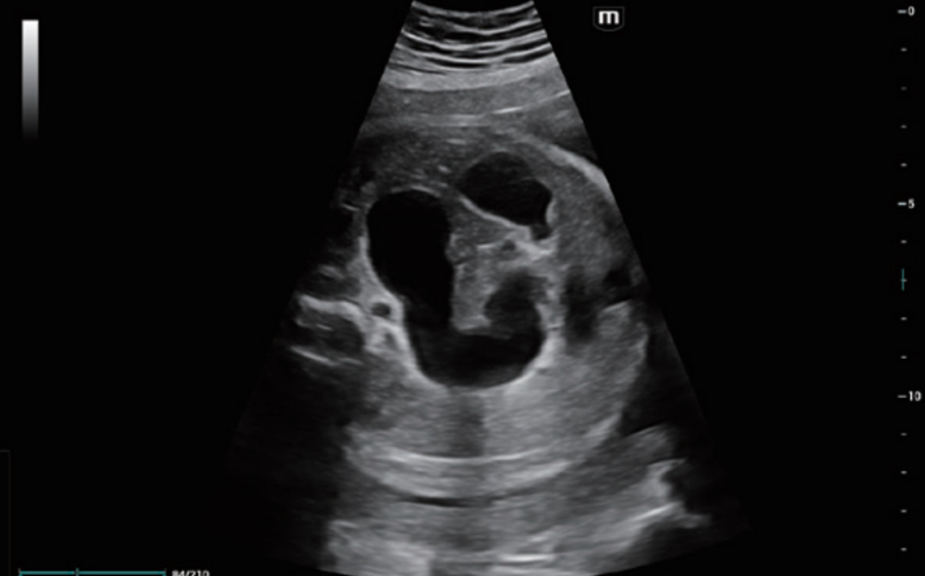 2D with 2 Probe (ObGyn): https://e-katalog.lkpp.go.id/katalog/produk/detail/2058816?type=general
Hardware:
23.8″ LED monitor
15.6″ Touch screen
2 Probes (Convex & Transvaginal)
128GB SSD + 1TB HDD
5 Active Port Connectors
Software:
4D function with iLive Pro
Glazing Flow
Smart Planes CNS
Smart FH
Smart Pelvic
Smart FLC
MedSight

4D with 3 Probe (ObGyn) : https://e-katalog.lkpp.go.id/katalog/produk/detail/2058821?type=general
Hardware:
23.8″ LED monitor
15.6″ Touch screen
3 Probes (Volume Convex, Convex & Transvaginal)
128GB SSD + 1TB HDD
5 Active Port Connectors
Software:
4D function with iLive Pro
Glazing Flow
Smart Planes CNS
Smart FH
Smart Pelvic
Smart FLC
MedSight
4D with 4 Probe (ObGyn) : https://e-katalog.lkpp.go.id/katalog/produk/detail/2058826?type=general
Hardware:
23.8″ LED monitor
15.6″ Touch screen
3 Probes (Volume Convex, Convex, Transvaginal & 1 selectable probe)
128GB SSD + 1TB HDD
5 Active Port Connectors
Software:
4D function with iLive Pro
Glazing Flow
Smart Planes CNS
Smart FH
Smart Pelvic
Smart FLC
MedSight