Award winning portable hand-carried color Doppler, M7 Premium is a high level system with excellent performance across a wide range of applications. Equipped with advanced technologies and easy-to-operate workflow software, M7 Premium is the best choice for professionals putting quality first.
Performance
3T Transducer Technology
Mindray's patent transducer technology to increase image bandwidth and transmission efficiency.
Triple-matching layer design for higher sensitivity, wider bandwidth, and improved S/N.
Total-cut design for lower cross-talk noise, better directivity, and improved lateral resolution
Thermal-control design for better acoustic transmission
PSHI™ (Phase Shift Harmonic Imaging)
Purified Harmonic Imaging for better contrast resolution providing clearer images with excellent resolution and less noise.
iBeam™ (Spatial Compound Imaging)
Permits use of multiple scanned angles to form a single image, resulting in enhanced contrast resolution and improved visualization.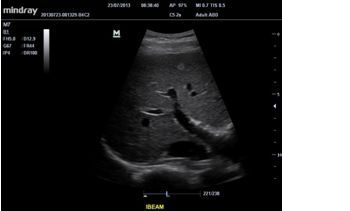 iClear™ (Speckle Suppression Imaging)
Gain improved image quality based on auto structure detection.
Sharper & Continuous Edges
Smooth Uniform Tissues
Cleaner 'no echo areas'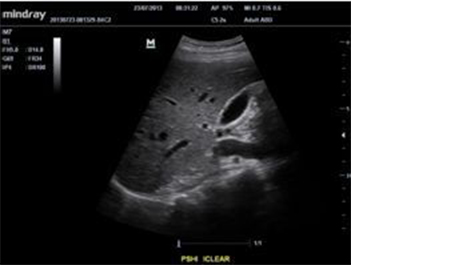 Multi-beam formation
Maximum 8 times tasking for one transmitted beam, resulting in excellent time resolution and higher frame rate, thus providing superb temporal resolution for cardiac imaging.
UWN (Ultra-Wideband Non-linear) Contrast Imaging
Mindray's unique contrast imaging technology, utilizing contrast agent characters with both 2nd harmonic and non-linear fundamental signal to get improved S/N ratio for better diagnostic details and longer contrast agent duration for better observation.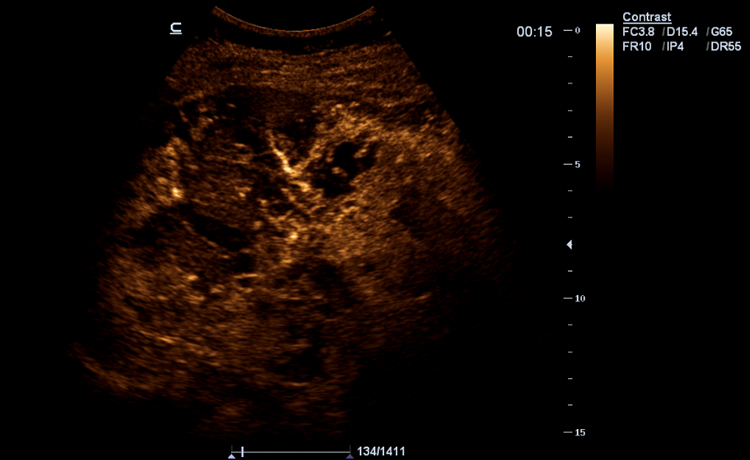 Natural Touch Elastography
Based on Mindray's latest patented technology, natural touch elastography reduces dependence on user operation technique, improving operator's reproducibility for higher clinical utility.
Higher stiffness sensitivity
Good stability and reproducibility
iScape™ (Real-time Panoramic Imaging)
Get a complete and extended view of the anatomical structure through panoramic imaging, coupled with velocity indication and forward/backward scan ability making scanning much easier, smoother and more controllable.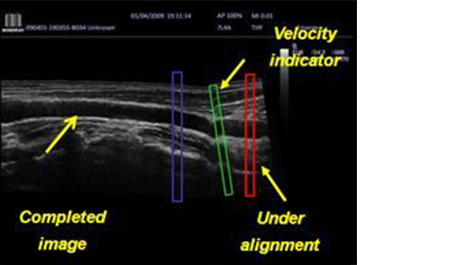 ExFOV
Discover better diagnostic information through extended view of the anatomical structure on all convex and linear probes.
Free Xros M™
Gain precise anatomical observation by freely placing sample lines at any angle. Attain better images through simultaneous display of up to 3 sample lines.
iNeedle™
The totally new iNeedle is able to recognize and adapt the puncture angle automatically, enhancing both needle tip and pathway clearly.
Smart OB™
Auto measurement of fetal parameters: trace and calculate the BPD, OFD, HC, AC and FL on a single click.
3D/4D imaging
Including 3D/4D Flip & Sync features providing fast and easy image volume view from any direction.

Workflow
iTouch™ (Auto Image Optimization)
Gain instant auto image optimization in B, Color and PW Modes on the click of single key.
IMT (Intima-Media Thickness)
Auto measurement of anterior and posterior wall thickness providing accurate carotid status.
iStation™
Mindray's unique Patient Information Management System allowing you to integrate, review, archive and retrieve patient data effectively.
iZoom™
Gain instant full screen view on the click of a single key.
iStorage™
Directly transfer images and reports to PC via network cable.
iRoam™
Wireless data transfer solution.
DICOM
Comprehensive DICOM solution.
Ergonomics
Uninterrupted scanning with rechargeable battery
Clinical Images