DC-N2 offers a unique combination of relevant technology, quality and affordability. Be it an experienced ultrasound professional or a beginner, the DC-N2, with its unique self-learning software and advanced imaging technologies can be used across multiple clinical settings. With a user-friendly control panel and a user-centric workflow system, the DC-N2 can be well trusted for its performance and ease of use.
Performance
iScanHelper
Dedicated Inbuilt Tutorial Software
Anatomical diagram illustrations including schematic structure tips and coded tissue
Standard ultrasonogram comparison with real-time scanning
Scanning reference picture demonstrating adequate patient position and probe placement tips on scanning skills and diagnosis information
iBeam™
Permits use of multiple scanned angles to form a single image, resulting in enhanced contrast resolution and improved visualization.
iClear™
Gain improved image quality based on auto structure detection.
Sharper & Continuous Edges
Smooth Uniform Tissues
Cleaner 'no echo areas'
iScape™
Get a complete and extended view of the anatomical structure through panoramic imaging coupled with velocity indication and forward/backward scan ability making scanning much easier, smoother and more controllable.

ExFOV
Discover better diagnostic information through extended view of the anatomical structure on all convex and linear probes.
B-Steer™
Your tool for deeper biopsy: allowing adjustments to the scan line to gain better visibility of the needle, nerves and small vessels.
Smart 3D
Smart 3D providing easy image volume view from any direction.
Workflow
iStorage
Directly transfer images and reports to PC via network cable.


Auto IMT (Intima-Media Thickness)
Auto measurement of anterior and posterior wall thickness providing accurate carotid status.
iTouch™
Gain instant auto image optimization in B, Color and PW Modes on the click of a single key.
iZoom™
Gain instant full screen view on the click of a single key.
iStation™
Mindray's unique Patient Information Management System allowing you to integrate, review, archive and retrieve patient data effectively.
Ergonomics
15″ LCD monitor with 180° rotatable angle
Height adjustable control panel
Maximum three transducer connectors
Two level backlit keyboard for varying requirements
1.5h uninterrupted scanning with rechargeable battery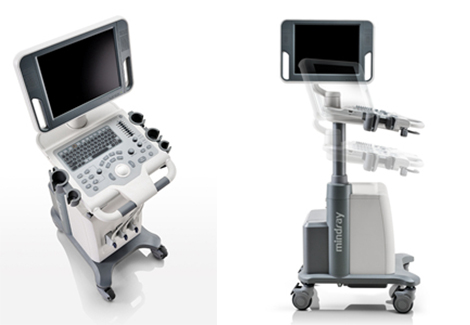 Sample Clinical Images